If you are experiencing thinning hair or hair loss, you are already aware of the impact it has on your life. Often, the loss of hair goes hand in hand with a loss in confidence, and the resulting stress can contribute to further hair loss. It is a vicious circle that is hard to escape from.
Not so long ago, options for hair restoration used to be limited to hair transplants that were invasive, expensive, and often did not look great. Thankfully, hair transplants now look natural and are far less invasive. They are also not the only option when it comes to hair restoration treatments.
Several non-invasive hair restoration options are on the market, and you can try them without resorting to having hair transplants. This means you can experience a return of hair growth with minimal treatment and recovery times.
Platelet-rich plasma (PRP) hair loss treatment is one method that has fantastic results. It is quick, pain-free, and simple, which means it is perfect for anyone who fears surgery. If you think it is right for you, The Hair Transplant & Restoration Center can help.
What is the Process of Panama City Platelet Rich Plasma for Hair Loss Treatment?
Panama City PRP hair restoration works by increasing the blood supply to the hair follicles, increasing the size of the hair shaft, and thus, decreasing hair loss. The treatment triggers, controls, and maintains the hair's growth phase and cycle.
Our blood contains stem cells and autologous blood products, which are highly beneficial in aiding hair loss. They signal the body to regenerate and multiply. This therapy was previously used extensively to aid in wound healing but has now been harnessed to stimulate hair growth.
A Panama City PRP hair treatment essentially kicks your dormant hair follicles back into action and encourages them to grow hair.
How Does the Panama City Platelet Rich Plasma Treatment Work?
The Panama City platelet-rich plasma therapy works by extracting a small sample of your blood via a needle. It is then placed into a centrifuge for ten minutes. When it has separated, the platelet-rich plasma is collected in a syringe and injected directly into your scalp in strategic areas.
A local anesthetic is applied to the area. Your hair restoration doctor will then carry out the procedure. It is quick, typically taking no longer than half an hour from start to finish.
It varies between clients, but several treatments of PRP are generally required to achieve maximum results. These will be given at one-month intervals. After the last treatment, an ongoing maintenance plan will be recommended of approximately 1-2 PRP treatments per year.
Your doctor will give you a personalized maintenance and care program, so you will know exactly when to come in for another treatment.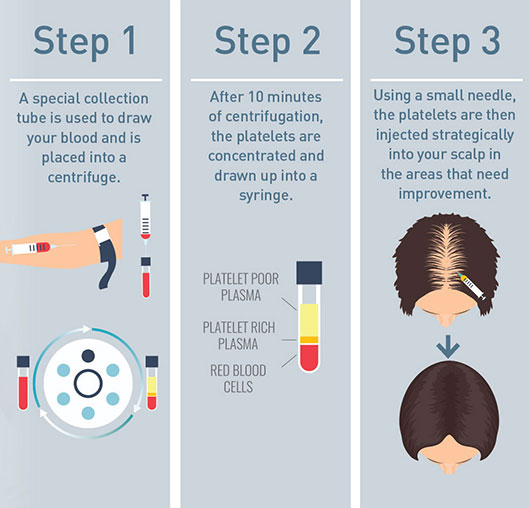 ---
Is PRP Panama City Hair Restoration for Everyone?
Microneedling with PRP is most effective at treating areas of weak quality hair growth and small areas of Alopecia hair loss. It is not a suitable treatment for those suffering from significant hair loss and baldness. If this is the case, a hair transplant might be more suitable.
PRP has been found particularly effective for anyone suffering hair loss as a result of medical treatments like chemotherapy. Therefore, it is a good non-invasive solution to combat hair loss caused by medication.
Are the Results Immediate?
Since it takes time for hair to grow, the results of PRP treatments are not immediate. It typically takes between three and four months before a noticeable change is observed. Full effects can be seen a few months later.
What About Recovery Time and Side Effects from My PRP Hair Loss Treatment?
PRP treatment for hair requires no downtime after you have received it. You can continue about your day as normal with a few precautions:
Do not dye your hair or apply any chemical treatments or products for at least 48 hours
While this Panama City hair restoration for men and women is considered safe, there are a few side effects that you may experience and need to be aware of:
Mild pain, tenderness, and/or swelling
A headache
Temporary bleeding at the injection site
Itching or irritation
Most of these side effects disappear after a day or so. If any of them become worse, you must contact your hair loss specialist.
The Benefits of Panama City Platelet Rich Plasma Therapy
PRP is a great way to encourage new hair growth without resorting to more invasive methods. Since you can continue with your day immediately after the treatment, it is a convenient hair restoration method that does not impact your life.
PRP is a natural method of restoration with no medication needed, except for a local anesthetic, that wears off after the treatment has been completed. Thinning hair can be restored without any complicated medical procedures or aftercare.
PRP is a great step for anyone wanting to do something about their thinning hair but does not wish to commit to having a hair transplant.
How to Find Out More About PRP Treatments in Panama City
If you are interested in Panama City hair restoration for women or men and PRP treatments, The Hair Transplant and Restoration Center can help. Founded in 2006, we specialize in hair restoration treatments for both men and women. Our dedicated medical team will provide you with a free hair loss analysis to determine the best course of action for your hair restoration.
During the analysis, we will measure your hair density, the degree of hair loss, and your scalp health. This data allows us to draw up an individualized plan specifically for you.
If you are interested in finding out about how PRP treatments can help you, contact us today. We also offer PRP treatments in Santa Rosa Beach, Watersound, and Dothan AL.