This affordable non-surgical alternative to hair loss works by:
Increasing the blood supply to your hair follicles
Increasing shaft size (thickness)
Triggering, controlling and maintaining your hair's growth phase and cycle
Decreasing hair loss
---
How Does PRP Work?
Let's begin with the science behind PRP.
Everyone's blood contains stem cells and autologous blood products which have essential growth factors that assist our bodies in the regeneration of tissue and healing. These growth factors are like signal callers to our tissue to regenerate and multiply. PRP therapy has been used for years in other medical specialties to improve wound healing, speed up recovery time, and regrow healthier tissue. And now, armed with strong supporting evidence, doctors have discovered the use of PRP in thickening and regrowing hair.
With PRP for hair, your growth factors and stem cells work together to reverse the miniaturization of the hair follicle and to jumpstart the dormant hair back into the growth stage.
---
The PRP Treatment Overview – A Three-Step Process
Before beginning the procedure we draw a small amount of your blood in our office, similar to a routine blood test. Your blood is then spun in a centrifuge to separate out the PRP. Once separated, it is then removed from the rest of your blood sample and we are ready to start the procedure. The procedure usually begins with a mild anesthesia applied to the scalp to completely numb and minimize any discomfort during the injection. The concentrated PRP is then injected into the areas of scalp where improvement is desired.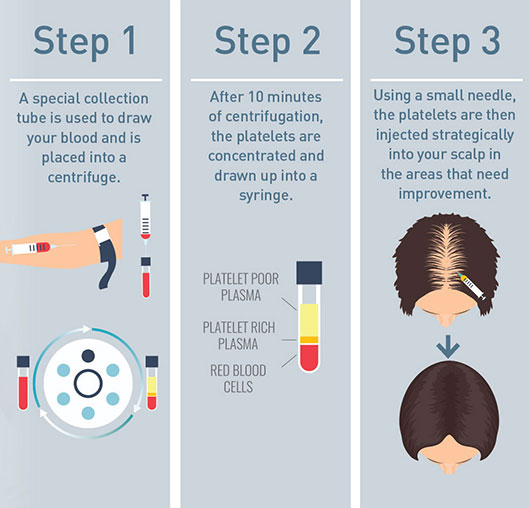 ---
PRP FAQs
Our team has compiled the answers to several of the most common questions we are asked about PRP treatment.
Who is the ideal candidate for PRP treatment?
We focus on two types of hair loss patients with our PRP treatments:
Patients with areas of "weak quality" hair growth on their scalp, where functioning hair follicles can still be observed.
Patients with small areas of alopecia areata.
When can I expect to see results?
The visible results in the form of new hair growth can be seen after 3-4 months of treatment with further improvements becoming noticeable in the following months.
How many treatments are usually required?
While the number of treatments for each of our patients will vary based on their specific needs, we often initially recommend several treatments spaced one month apart. Following this initial series of treatments, we may suggest an ongoing maintenance plan with 2-4 treatments per year.
How much time does a typical PRP treatment take?
Overall less than a half hour, with the time of the collection of your PRP taking 10 to 15 minutes and the actual treatment taking no more than 5 to 10 minutes.
Will there be any pain with this procedure?
While there may be some sensitivity, there is usually no pain for the patient. In addition, we use various topical analgesics to minimize and eliminate any potential discomfort in the area(s) being treated.
Any post-treatment precautions?
Yes, but only a few which include:
Avoid touching your scalp for the first 12 hours following treatment.
No shower for the first 12 hours of your treatment.
Avoid using any dyes and/or chemical treatments on your hair for the first 48 hours following treatment.
What about recovery time?
With this procedure there is no downtime or real recovery process. Our patients are able to resume normal activities immediately following their treatment.
Can this be used to cure my baldness?
No, this is not a treatment for baldness, however it can be used to slow down its effects and increase hair density.
PRP treatments are available in Panama City, Santa Rosa Beach, Watersound, and Dothan AL.